The tradition of craftsmanship, reinforced by almost a century of experience in woodworking, combined with formal research and an almost maniacal attention to detail, give rise to a collection where shapes and materials are the absolute protagonists.
Pieces in white oak marry perfectly with dark woods like canaletto walnut and ziricote, just as soft nubuck leathers mix with coverings in intricate fabrics and elegant jacquards. The inlaid details in white quartzite, brass and ebony complete the rich mosaic of finishes that characterize the Blend Collection.
Confirming once again the stylistic understanding with the company, the display was designed by Archer Humphryes Architects, the architectural duo. In 2015, Archer Humphryes Architects have given life to a classic, architectural space inspired by the typical British home, the archetype of the pitched roof cottage transformed into a brazen, sardonic and irreverent living style.
The walls envelop the environment in a dark grey with a bluish tint, enlivened by the addition of greyish blue curtains that drape the walls, conferring to the room a sense of warmth and a diffuse charm. The parquet, in dark wood with grey graining, is warmed by the soft colours of fine carpets that make it even more welcoming and comfortable. The display is divided into two spaces by a backlit openwork panel that outlines floral and geometric motifs which confer a solemn, luminous visual effect to the room. The light grey beams which punctuate the perimeter are structural and decorative, reinforcing the sensation of being in a northern European dwelling, a whimsical manor in Oxfordshire or a sumptuous chalet in Normandy. The extreme care and the exquisite colours, finishes and materials recreate a refined, out of the ordinary living style which proposes different compositions collected into a journey inside an eccentric living room: the perfect frame for the Blend Collection pieces. Not only was the set - up created by the architects but also the products illustrated here were designed by Archer Humphryes for the collection - named 4 Quatrefoils.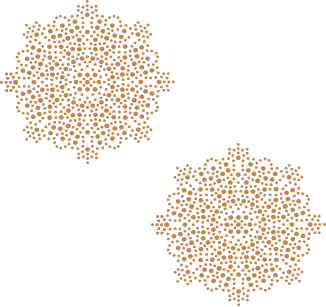 I Salone Milano
2014-2019
Archer Humphryes