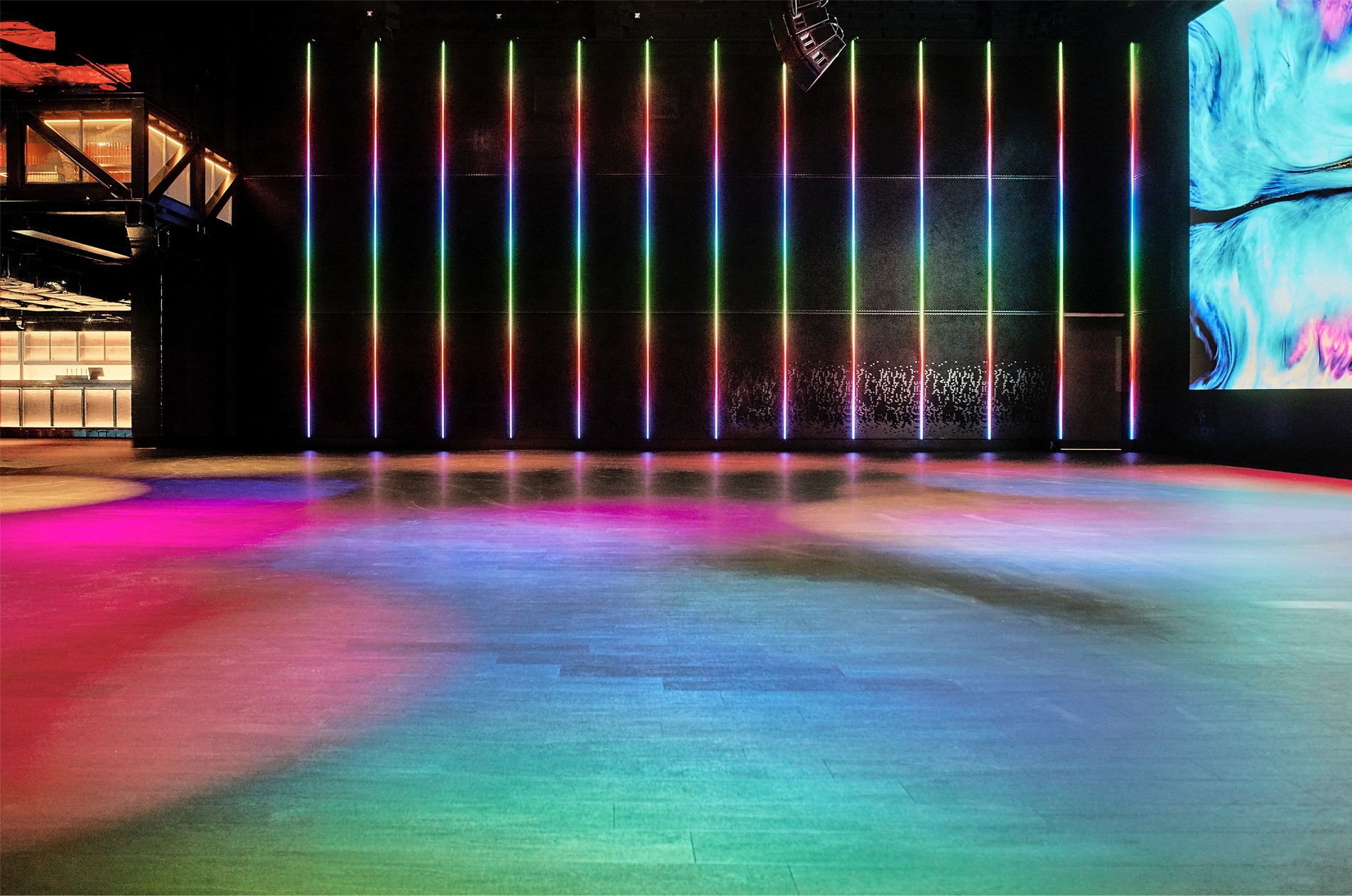 Here@ Outernet
Denmark Street, which lies a few feet from Tottenham Court Road station and links Charing Cross Road to the Palladian church of St Giles in the Fields, has been a centre for music since the 16th century, when it was known for the printing of sheet ballads, known as broadsides.
But it was in the 20th century that it became the undisputed hub of London's contemporary music scene, with music and instrument shops, recording studios and hangouts that hosted musicians from Elton John to David Bowie, The Rolling Stones and later the Sex Pistols.
Paul Simon, Jimi Hendrix, Stevie Wonder and Bob Marley all recorded here. The Kinks even wrote a song about it. There was music everywhere – at one point, there were 12 live music venues within a 500m radius of Tottenham Court Road. By 2017, one remained.
The devastation of this musical heritage has been a source of concern to Londoners for decades – Crossrail is the main culprit, but rising commercial rents and a general urge to sanitise what was one of the grottiest crossroads in central London have played their part.
Now though, something exciting is happening; the launch, next month, of the largest purpose-built venue in central London to open since the 1940s. HERE, a 2,000 capacity, two-storey space kitted out with up-to-the-minute audio visual technology, is part of the new, shiny Outernet development that looms, with its high-spec, street-facing LED screens (the largest in the world), just outside the Charing Cross Road entrance to TCR station.
Descending below street level and emerging into the vast black box that is HERE, excavated between the new Crossrail Line and the buildings above, it's hard not to be impressed.
Quite apart from the bar (one of four in this venue alone, all different) which is completely wrapped in colour-changing LED panels, for which I am a sucker, it's a seemingly endlessly reconfigurable space, 10m high floor to ceiling, with a mezzanine on three sides, and equipped with state of the art production, lighting and acoustic systems that will make it possible to create high-end video of any gig and live stream it globally.
For anyone interested in the sound capabilities, the walls of the auditorium are clad in a custom perforated metal developed by Archer Humphryes Architects "to allow maximum sound absorption into the acoustic insulation behind to create a second-to-none acoustically balanced space".
For artists, it's a winner – a "plug and play" (or "turnkey" as director of events Olivia Teodorani calls it) situation, meaning that everything they could possibly need is already in place, which "streamlines the getting-in process, and they don't have to take the day before which ends up racking up in cost."
It also has the most luxurious backstage area I have ever seen, with two lounges for pre and post-performance changing and chilling, equipped with bars, amps, changing and make-up facilities; and what I predict will become an Instagram star in itself, a shower that can fit up to 12 people at a time.
The venues' operating partner Karrie Goldberg describes this quirk of the layout as "a happy accident. I think it'll end up on social media". Cue many "how many rock stars can you fit in a shower" situations. Gigs already announced include Annie Mac's Before Midnight club night launch event on September 9, plus performances from Sam Ryder, Hercules & Love Affair, Alfie Templeman, Berwyn, Dermot Kennedy and Gang of Youths.
Above HERE is another venue, one that will be familiar to any music lovers who know the area of old as the 12bar, an iconic club that hosted countless legendary acts as well as being home to London's emerging punk scene in the mid-Seventies.
Renamed The Lower Third (a Bowie reference born out of Goldberg's obsession with the star – her dog is called Ziggy Stardust) it has been entirely gutted and refurbished – it's a rubbly building site when I poke my head in, but will, Teodorani assures me, be screen-free, with two bars and more of a "wooden, recording studio" sort of vibe.
The redevelopment has retained the original smithy, a grade II listed building at the back of the 12bar that had to be literally picked up whole and put back down again to access the space below, and will be available for acoustic sets and small impromptu performances. Backstage will feature vintage photography from the 12bar's earlier days, and the programme will be curated by emerging music specialist Harry James, and electronic music director Simon Denby.
"This really, is going to be how we spearhead that bringing back the music [to the area]" says Teodorani. "We can say that about HERE, but, you know, it's a big old space and emerging artists, they're not going to do their first gig there. But they will do it here [at The Lower Third] and then down the line, hopefully, they'll be able to do it down there."
In addition, and as yet unannounced (Outernet chief executive Philip O'Ferrall says they're still seeking an operating partner) is yet another music venue/bistro, tucked behind a door on Flitcroft Street (again, very much a building site at the mo). O'Ferrall's dream is to model it on The Birdcage, the South Beach club in the Robin Williams film of the same name, which, let's face it, sounds amazing.
Not everyone has been full of unmitigated praise for the project. Mark Davyd of the Music Venues Trust diplomatically describes himself as both "nervous" and "excited", with lingering doubts born of the losses that have already taken place in the area. He doesn't say it in so many words, but it's clear that the more bluntly commercial aspects of the Outernet development are a source of some anxiety.
O'Ferrall gets this, saying, "You can't stumble into an environment and not be gracious about it." These two commercial spaces, the Now Building and its smaller, sister space Now Trending (both, in my opinion, naff names, and HERE is no better, but everybody involved remains firmly on message when I bring this up), are the golden goose on which the entire operation relies.
Two constantly changing, immersive video environments, their main purpose is to host brand "content" – high quality, not Go Compare ads – to be consumed by passers-by of this very busy corner of London from 7am every day.
"There'll be city dwellers coming in, going to their offices, it's the perfect time to have a 30 seconds of what's on in the theatre tonight, or, 'do you want to buy a Range Rover?'" O'Ferrall laughs.
What's on the screens will depend on the time of day and the demographic typically coming through the area. There'll be a regular free programme of visual art, curated by artist Marco Brambilla; there'll be stuff for school groups visiting the nearby British Museum, and from charity partners such as UNICEF. They have also formed partnerships with Ridley Scott's Black Dog Films and record label trade body BPI for BRITs, Mercury's and Classic BRITs content, but, says O'Ferrall, "ultimately, we have to be realistic."
You can't make this kind of investment and expect the music venues alone to make that return. Something has to pay for it, and NFT fashion launches, car displays and high-end advertising emblazoned across 23,000 square feet of floor to ceiling, 360 degree, 8K screens is going to be key.
With that income, Outernet is going to be able to "bring back more music shops," he says. "The shops that are there now have a covenant in the lease that they can only ever be music use."
They're also building a "pro bono recording studio, which means we are able to offer people that wouldn't normally get the opportunity to record in a recording studio". Equipment and music vendors on Denmark Street will be providing products, from recording equipment to instruments, pro bono. Students from the BRIT School will be able to use it, and there'll also be a website where bands can apply for the opportunity, decided by an independent youth board.
Leo Green, Outernet's artistic director, tells me they're also in the process of setting up a new free radio station, Denmark Street Radio, embracing the history of the area as the roots of London's songwriting scene and, he says, allowing people who can't get into the limited capacity venues to be part of what's going on. "This is not Wembley Stadium," he points out.
As far as the denizens of Denmark Street go, it seems they've been won round. "Honestly, if it wasn't for [Outernet] taking care of us during the pandemic, I don't think there's any way we would have survived," says Jan Smosarski, a co-owner of Sixty Sixty Sounds, which specialises in guitars, adding that other owners in the area, on streets owned by different landlords, have not all been so lucky.
He describes the process of the development as having been "incredibly inclusive to the street" and says that the long-term benefit of having the new venues so close "will be kind of immeasurable. When the British summertime festivals are on, there's a massive, massive increase in business on the street. Like when the Eagles are playing, or Pearl Jam, sales go up. So I think actually having weekly, daily, monthly or around the clock music-related events, can only do wonders for the street."
His shop has regularly put on small live music events in the past for album launches and so on – now, he says, they'll be able to do them at The Lower Third. For him, the whole development represents nothing but opportunity.
"My view of the street, honestly, is that I think it's on the cusp of a massive cultural, and digital revolution. We do a lot of digital, we've got a pretty decent following on Instagram, not a huge following on TikTok but as far as guitar shops go, I think it's one of the biggest in the UK. So for me it's about attracting a multigenerational [audience].
"There's obviously a very deep and rich history of the street, and it's really important to honour the history and honour the legacy. But then also to make sure that it connects and develops with a new generation." Smosarski is 35, one of his employees is 26, another is 16. "And I think it's really important that it connects. So I think I see this new era as honouring the old legacy, but creating a new one."
It will not feel like the Tin Pan Alley of the Nineties, let alone the Seventies, when the venues are up and running (HERE is already operational, albeit in a "soft" way - last night saw its first comedy gig, with Ricky Gervais trying out new material). The new (or Now) buildings are bold, or garish, depending on your point of view; the onslaught of visual "content" will displease many, especially those who think that the corporate world should be kept far away from authentic creative endeavour.
But tell that to the young musicians thrilled about their own latest trainer brand or Gibson collab. And ultimately, the fact is that two, and eventually three new venues for music artists, from emerging talent to superstars, are opening in the centre of this city, where recently there were almost none.
Standing on the corner of Flitcroft Street opposite Sixty Sixty, O'Ferrall is adamant. "If we're not standing here in three months and can hear music, we've not done our job properly."