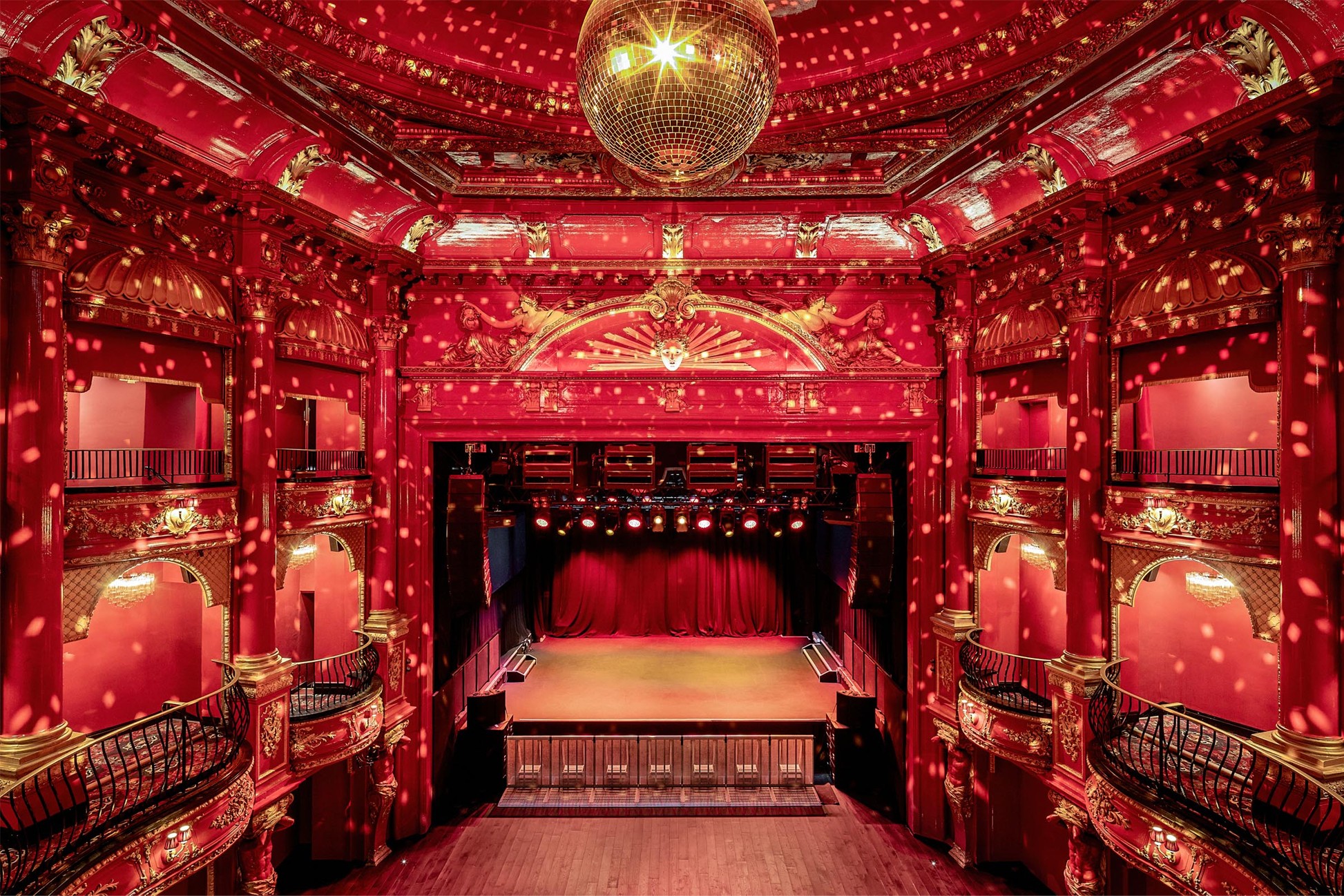 KOKO: Reformat
Koko has reopened with a bang. The legendary London music venue, which in the past has hosted performances from artists including Madonna, Ed Sheeran, Thom Yorke and Kanye West, is opening its doors this month, following a seven-year planning, restoration and redesign process. The refreshed space not only encompasses a facelift of its historical main stage, but also features a state-of-the-art hospitality element, perfectly tailored for the music lover – House of Koko (including Café Koko and Koko shop).
This members' club, which will include some areas that are open to the wider public, is a balanced blend of moodiness and polish, food and drink offerings and boutique performance options, all neatly wrapped in lush, bespoke design and technology that hopes to elevate the music experience to levels previously unseen in the city.
Koko owner and entrepreneur Olly Bengough explains that this reimagined version of the much-loved music culture hub has been a long time in the making. A first restoration in 2004 saw the venue able to host some 200 to 250 artists a year, but this was not enough for Bengough. How could its reach be further enhanced, he wondered?
'In 2015, I was looking at the surrounding buildings, including the Hope & Anchor pub, and I realised there was this opportunity to create something architecturally unique, and we could dream up an entirely new experience for music and entertainment,' he recalls. 'At the same time, I was travelling a lot to LA, where it was all about streaming and connectivity. So, I thought, what do the artists need from the future? What would give them a better opportunity to be creative? Let's give the building that layer too.'
Bengough acquired the buildings behind the original Koko – a former piano factory dating back to 1800, and the Hope & Anchor from 1860, the façade of which is listed and was maintained – and called upon architecture studio Archer Humphryes (of Chiltern Firehouse fame) to help him 'masterplan' the whole, weaving together the seemingly disparate parts, while carefully restoring period architecture. David Archer and Julie Humphryes led the works: 'It was going to be a refurbishment and a reawakening of the historical venue, and a new building that would have a symbiotic relationship and would be a vessel or container of the verbal brief Olly gave us,' Archer says. In a way, the architecture and the conceptual and usage plans converged.
'[It is about] bridging old and new, analogue and digital, buildings and music – all while keeping the soul of Koko,' says Bengough.
The construction works were significant and offered a range of challenges and opportunities – a fire broke out on site in 2020, causing damage to the dome, which had to be reconstructed. Consequent water damage to the theatre (150,000 litres of water entered the theatre from the fire engines, along with rain water from subsequent storms) threw up various obstacles, but gutting the building completely in places led to fortunate discoveries too, such as the fly tower above the main stage, which is now refurbished and made into an extra space for intimate performances. 'We kept finding new pockets and new ways to unlock the space,' Bengough recalls.
Humphryes says: 'It's always about the backstage and stage doors and auxiliary areas. It's also all the circulation spaces – you can go under the stage, around the stage, under the dome, the bridge of the pavilion, and in the existing route there is this elliptical stair that hugs around the dome – and it offers all this excitement.'
The revamped Koko's main building also includes a spectacular bar in the reconstructed dome; a glass pavilion housing a rooftop restaurant (a real structural challenge, the architects say), which is gently placed above the main theatre auditorium; and a fully refurbished grand stage (an Italianate interior, originally designed by the building's architect, WGR Sprague, in 1900). Behind it ( 'the new building is hugging the original building', Archer explains) are a selection of hospitality areas, including a public bar and restaurant, a members' bar and restaurant, more exclusive performance spaces, and a range of boutique vinyl listening booths where guests can enjoy their favourite albums privately.
The interiors, created by design studio Pirajean Lees, were created in collaboration with Bengough and according to his overall vision, inspired by travels, different styles, and the needs of each space. There are dark and mysterious bar corners, a speakeasy with a bespoke cigarette-patterned carpet, a timber-clad restaurant with a Japanese twist, and specially made details, fittings and features throughout.
Bengough says: 'The design is intuitive, it doesn't fit into one genre or lane. It's made out of timeless materials – it had to be timeless and classic, so that it gave you freedom.' And of course, all the architectural and interior design mastery on show is topped by amazing technological support – an IT and streaming element that offers countless possibilities to artists. Bridging time periods, physical spaces and styles, the digital and the analogue world, the new Koko hopes to offer a haven for music like no other, all created in the spirit of fun, collaboration and creative freedom.